Posters
Take a look at informative posters and presentations about seed identification and species comparisons!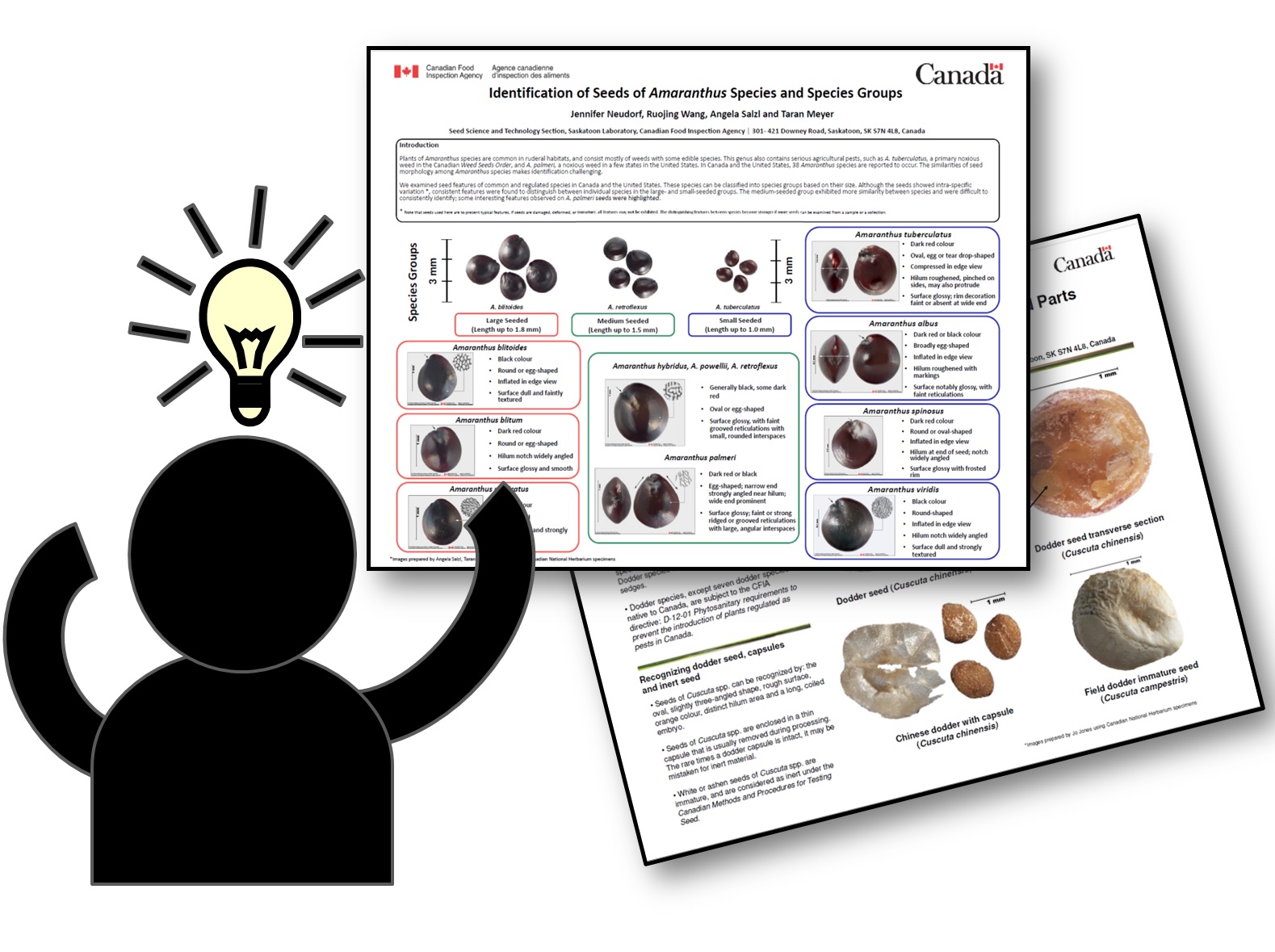 These posters detailing weed seed, crop species and disease body identification were created for various educational events, and are now available for ISMA members. To view a particular poster, select the link below, arranged alphabetically.
Please note that these posters are copyrighted material and are to be used only for educational/ non-commercial purposes. Other uses without permission are prohibited.
Family

Poster Link

Description

Authors

Amaranthaceae

Identification of Seeds of Amaranthus Species and Species Groups (presented 2018)

 

Categorizes and describes seed features that can be used for examination of amaranth or pigweed (Amaranthus spp.) seed impurities.

 

J. Neudorf, R. Wang, A. Salzl and T. Meyer

Credit: 2019 Canadian Food Inspection Agency

Asteraceae

Distinguishing Knapweeds and Star Thistles (Centaurea spp.) of Interest to Canadian Weed Seed Regulations (presented 2011)

 

Describes features of the achenes of four species of knapweed and star thistle (Centaurea spp.) that are regulated in Canada, including similar looking species.

 

J. Neudorf, J. Hinke and R. Wang

Credit: 2019 Canadian Food Inspection Agency

Brassicaceae

Distinguishing Small-seeded Mustards (Brassicaceae) of Interest to Canadian Seed Regulations (presented 2014)

 

Details and compares seed features of small seeded weedy species in the mustard family (Brassicaceae). 

 

J. Neudorf and R. Wang

Credit: 2019 Canadian Food Inspection Agency

Convolvulaceae

Recognizing Dodder (Cuscuta spp.) Seeds and Associated Parts (presented 2016)

 

Illustrates the external and internal features of dodder (Cuscuta spp.) seeds, along with dodder fruit and immature seeds.

 

J. Neudorf and R. Wang

Credit: 2019 Canadian Food Inspection Agency

Ergot and Sclerotia 

Identification of Disease Bodies: Ergot and Sclerotia (updated 2021)

 

An introduction to the identifying features of ergot disease bodies and sclerotia for the purity analyst.

 

Dr. R. Wang

Credit: 2021 Canadian Food Inspection Agency

 

Fabaceae

Distinguishing Alfalfa (Medicago sativa L.), Sweet Clover (Melilotus spp.). and Black Medick (Medicago lupulina L.) Seeds (presented 2013)

 

Compares and contrasts the identifying features of 3 crop kinds in the clover family (Fabaceae).

 

J. Neudorf and R. Wang

Credit: 2019 Canadian Food Inspection Agency

Poaceae

Distinguishing False Wild Oats (Avena sativa L. fatuoid) and Wild Oats (Avena fatua L.) (presented 2016)

 

 

Details the features used to distinguish wild oat (Avena sativa) and false wild oat (Avena sativa mut. fatuoid) florets.

 

 

J. Neudorf and R. Wang

Credit: 2019 Canadian Food Inspection Agency

Poaceae

Secondary Noxious Brome Species in Canadian Weed Seeds Order (2016) (presented 2017)

 

Describes and compares the floret features of four species of brome (Bromus spp.) that are regulated in Canada.

 

J. Neudorf, A. Salzl and R. Wang

Credit: 2019 Canadian Food Inspection Agency

 

Poaceae

Distinguishing Western Wheatgrass (Pascopyrum smithii) and Couchgrass (Elymus repens subsp. repens) Florets (presented 2012)

 

Summarizes the distinguishing features of the similar looking florets of western wheatgrass (Pascopyrum smithii) and couchgrass (Elymus repens).

 

J. Neudorf, S. Putz and R. Wang

Credit: 2019 Canadian Food Inspection Agency

Poaceae

Identification of Foxtail (Setaria) Impurities: Examination and Comparison of Four Species (presented 2009)

 

Describes and compares the spikelet features used to distinguish four species of foxtail (Setaria spp.) that may be encountered as seed impurities.

J. Neudorf and R. Wang

Credit: 2019 Canadian Food Inspection Agency

Poaceae

Taxonomy and Identification of Seeds of Sorghum Species and Sub-species (presented 2019)

 

Describes the taxonomy, nomenclature and history of domesticated sorghum, hybrids, wild species and weed species (Sorghum spp.).

 

J. Neudorf, A. Salzl and R. Wang

Credit: 2019 Canadian Food Inspection Agency

Poaceae

History and Identification of Cultivated Echinochloa Species (presented 2022)

 

Describes the history of cultivated Echinochloa species, their wild ancestors and distinguishing features of the spikelets and florets.

 

J. Neudorf, R. Wang, A. Salzl and T. Meyer

Credit: 2022 Canadian Food Inspection Agency
: