Recorded Webinars
Past informative webinars on seed morphology and identification are posted with webinar recordings and a .pdf version of the presentation.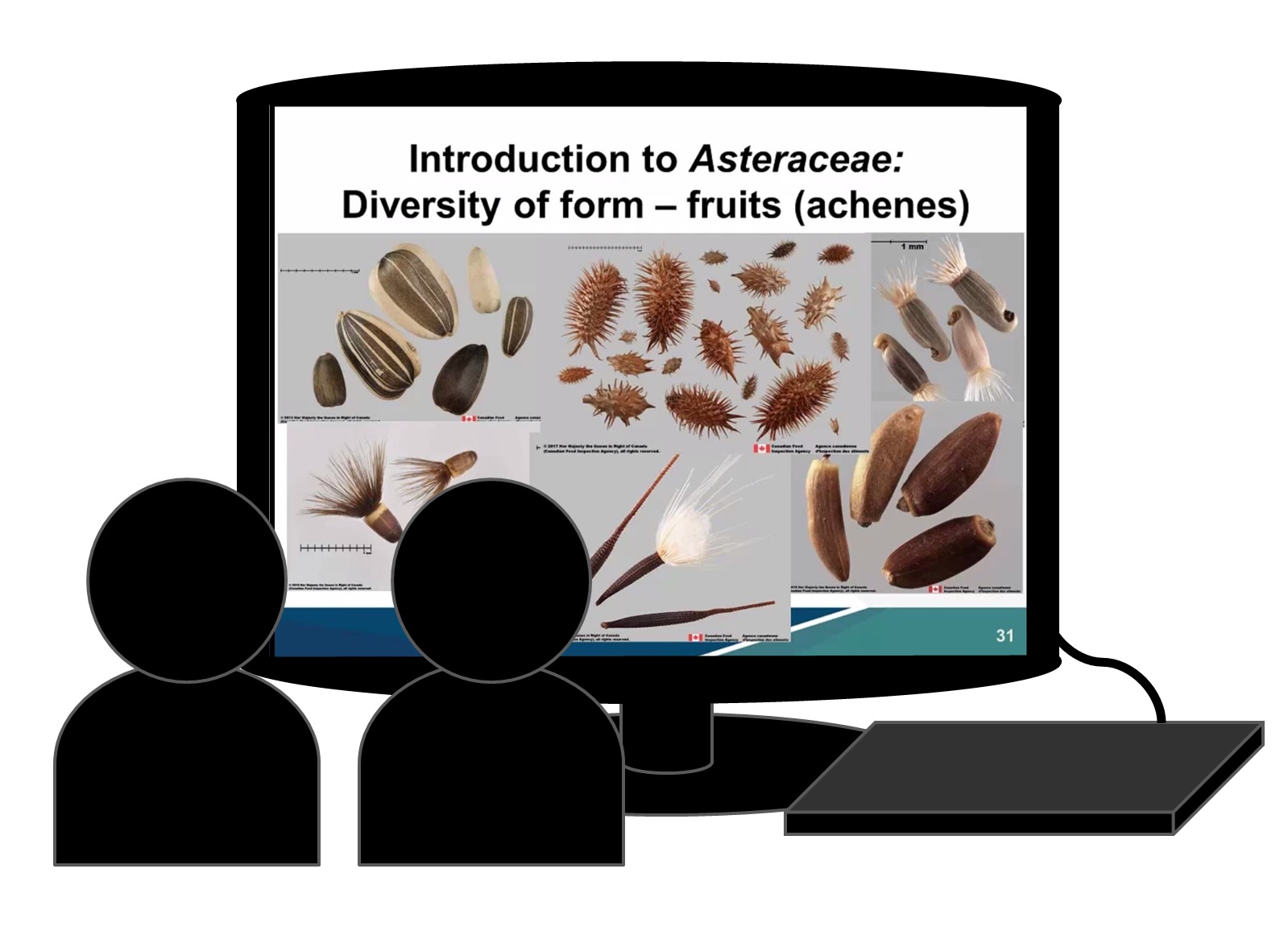 These webinars were previously recorded for different educational events and are now available for ISMA members. Select the webinar link from the list below, arranged by seed family. 
Please note that these webinars and presentations are copyrighted materials and are to be used only for educational/ non-commercial purposes. All types of the citation shall credit to authors and ISMA citation guide. Other uses without permission are prohibited.
Family

Webinar Recordings & PDF

Description

Presenter

Amaranthaceae

An overview of Amaranthus species in Canada and the United States with identification tips.

Presenter: A. Salzl

Credit: 2019 Canadian Food Inspection Agency

 

Asteraceae

Fruit Features of the Daisy Family (Asteraceae) (PDF)

 

An introduction to the fruit features of the Asteraceae family used in identification.

 

Presenter: J. Neudorf

Credit: 2019 Canadian Food Inspection Agency

 

Asteraceae

 

This webinar expands on the identification features of Asteraceae fruits to selected thistle species (Carduus spp. and Cirsium spp.).

 

Presenter: J. Neudorf

Credit: 2019 Canadian Food Inspection Agency

Brassicaceae

 

 

An overview of the seed features of canola and mustard species (Brassica spp.) used as crops.

 

Presenter: J. Neudorf

Credit: 2019 Canadian Food Inspection Agency

Brassicaceae

 

 

An overview of the seed features of species in the Brassicaceae with small seeds.

 

Presenter: D.J. Lionakis-Meyer

Credit: 2021 AOSA/ SCST Teaching and Training Committee

Fabaceae

 

 

An introduction to the identification features found on the seeds of the Pea family (Fabaceae).

 

Presenter: J. Neudorf

Credit: 2019 Canadian Food Inspection Agency

Plantaginaceae

Distinguishing Selected Toadflax Species (Linaria spp.) (PDF)

 

This webinar describes the seed features of selected species of toadflax (Linaria spp.).

 

Presenter: J. Neudorf

Credit: 2019 Canadian Food Inspection Agency

Plantaginaceae

 

This virtual seed identification webinar describes the seed features of selected species of toadflax (Linaria spp.).

 

Presenter: J. Neudorf

Credit: 2019 Canadian Food Inspection Agency

Poaceae

Identification Features of the Grass Family (Poaceae) and Applications

 

This webinar explores the identification features found on the florets and spikelets of the grass family (Poaceae) and their application to selected species.

 

Presenter: J. Neudorf

Credit: 2019 Canadian Food Inspection Agency

Poaceae

Identification Features of Fescue species (Festuca spp.) (PDF)

 

This webinar describes the floret features of fescue (Festuca spp.) and comparison with selected ryegrass (Lolium spp.) and festulolium (X Festulolium spp.) species.

 

Presenter: J. Neudorf

Credit: 2020 Canadian Food Inspection Agency

Solanaceae

 

 

This virtual seed identification webinar describes selected species of nightshades (Solanum spp.) including methods to distinguish between species.

 

 

Presenter: J. Neudorf

Credit: 2019 Canadian Food Inspection Agency

Solanaceae

 

This webinar was presented at the Seeds Canada Annual Meeting, 2021. It introduces the seed and fruit characteristics of the Solanaceae, and nomenclature issues of certain regulated species. Similar species are compared using a live demonstration.

Presenters: A. Salzl and J. Neudorf

Seed comparison and equipment demonstration: Taran Meyer

Credit: 2021 Canadian Food Inspection Agency